The 17th edition of the vibrant Art Basel Miami Beach that ran from 6th to 9th December 2018 transfigured ineffably the iconic Miami into the most ethereal canvas of exquisite art works, high-end galleries, special curated programs and prodigious shows. Miami Art Week also envisaged grandiose soirees with special guest parties, dinners, and glamorous galas heralding a plethora of talented artists and eulogizing Middle Eastern and African art. North America's broadest contemporary art fair was held at Miami Beach Convention Center, and hosted over 260 galleries and 29 new entrants from 35 countries across North and Latin America, Europe, Asia, The Middle East, and Africa with oeuvres of more than 4,000 artists. The exuberance of this pivotal stopover on the global art circuit inspired more than 20 satellite fairs conveying unique experiences owing to lively venues, impressive exhibitions and glittering events. The VIP inaugural show included curators, collectors, directors, established and emerging artists as well as dealers. The novelty of this edition was the substitution of the Public Art Program and of the film program at the Miami Beach Sound Scape Park by Abraham Cruzvillegas' multidisciplinary installation "Autorreconstrucción: To Insist, to Insist, to Insist…" combining sculpture, performance, music and dance.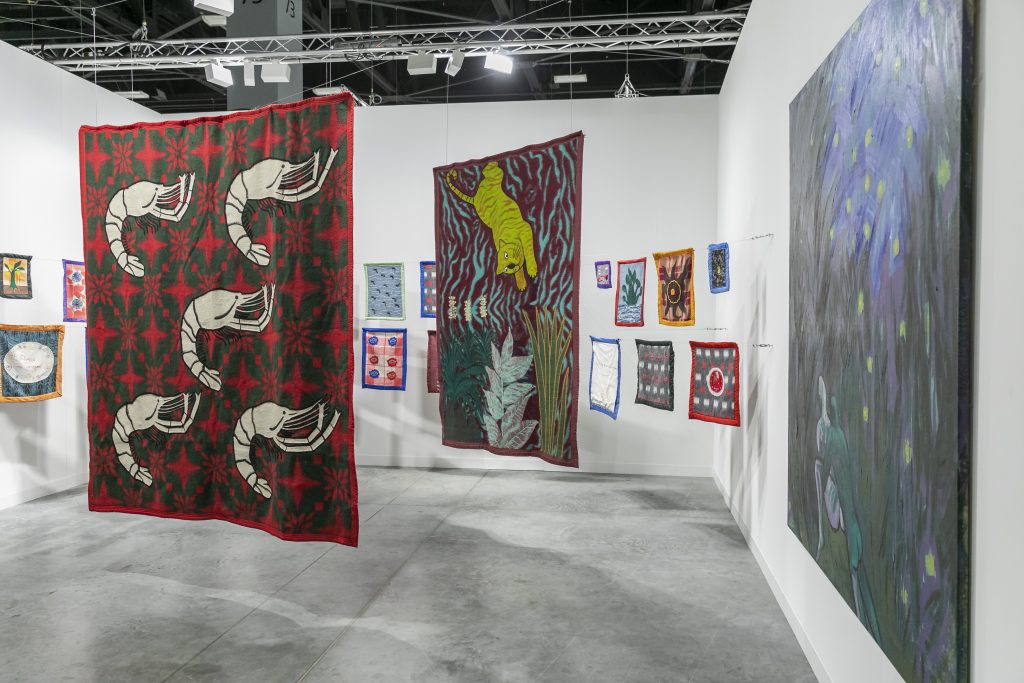 The exhibition space at the Miami Beach Convention Center was conceived around seven main sections that split the fair in distinct curatorial spaces: Galleries, Nova, Positions, Editions, Kabinett, Survey, and Magazines. Galleries represented the focal point for international galleries, Nova exhibited works of emerging artists, Kabinett focused on the works of single artists or themed group exhibitions, whereas Survey showcased art history projects from solo shows to thematic exhibitions. The Satellite Fairs spread all over the place enhanced art lovers' interest and delight.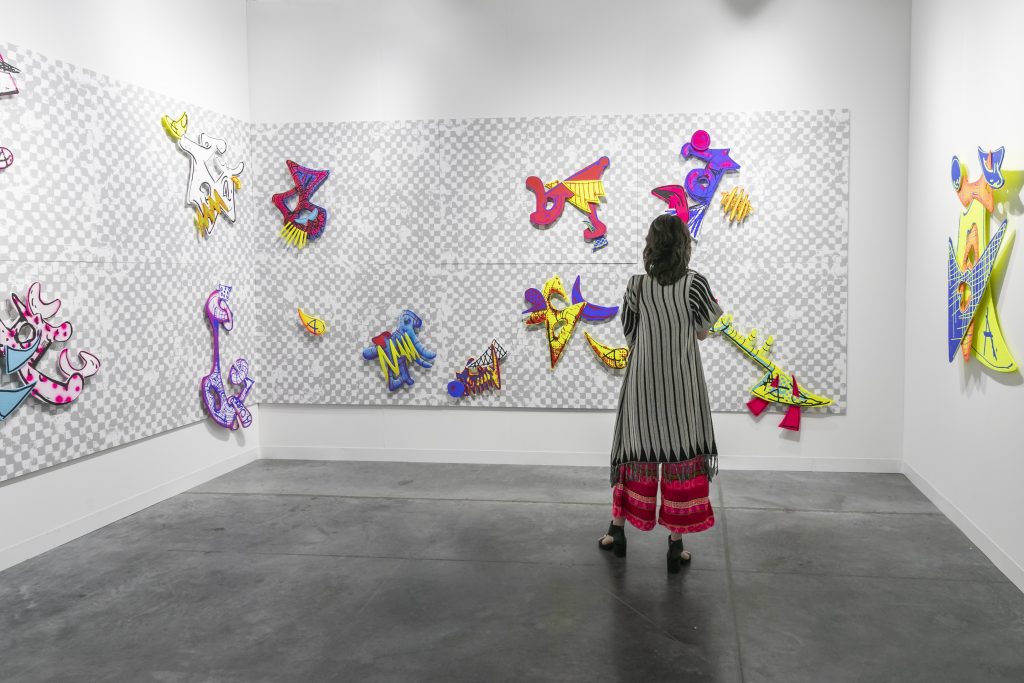 Galleries with 198 leading galleries and 12 new joiners comprised cutting-edge paintings, drawings, installations, sculptures, videos, photography, video and digital art. Among the participants, 12 were returning galleries that joined this sector after their previous participation in Nova, Positions or Survey: Boers-Li Gallery, Canada, David Castillo Gallery, DC Moore Gallery, Essex Street, Tanya Leighton to name some, Kayne Griffin Corcoran and Cardi Gallery were new, while Barbara Thumm came back after a short break.
Edition counted 11 galleries famous in the field of prints and editioned works:  Alan Cristea Gallery, Crown Point Press, Carolina Nitsch, Pace Prints, Paragon, Two Palms, ULAE and Susan Sheehan Gallery, a first-time participant in the Miami Beach show.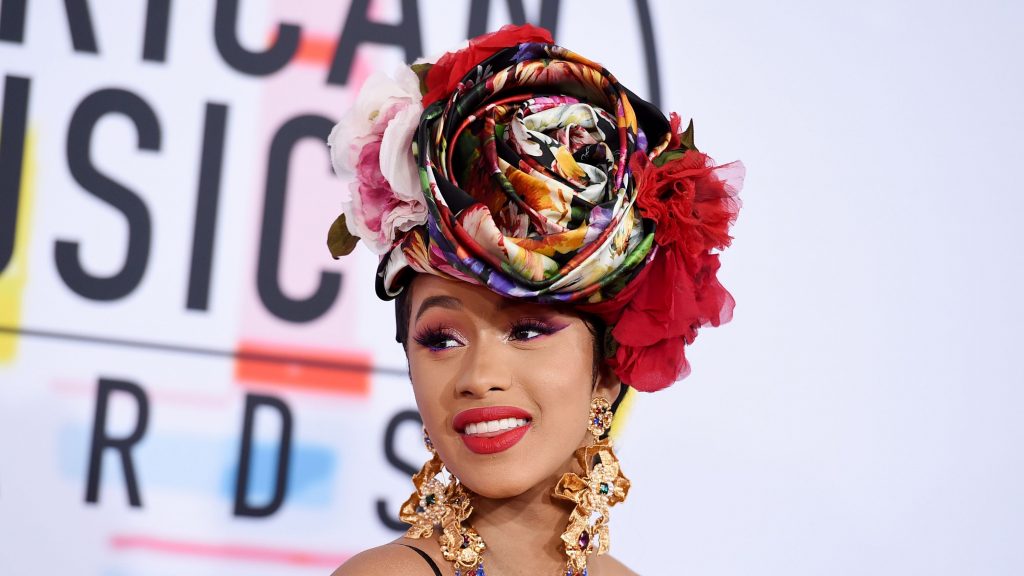 Positions exhibiting a major project by a single artist consisted of 14 solo booths with eight new entrants, such as: Mexican gallery Parque Galería, Amsterdam-based Upstream Gallery, Dianne Tanzer gallery from Australia, Bodega, Commonwealth and Council, Thierry Goldberg Gallery, Madragoa, etc.
Nova featured 29 exponents providing a platform for galleries to illustrate up to three artists: Selma Feriani Gallery, Galerie Christophe Gaillard, Grimm, Hanart TZ Gallery, Levy Delval, Josh Lilley, Linn Lühn, Morán Morán, etc. Highlights included Marguerite Humeau's  installation 'World Matters', inspired by Paleolithic Venus figurines, Derek Fordjour's installation entitled 'Backroom', and textile and ceramics-based works by the Mexican artist Pia Camil.
Survey reiterated its presence by means of 16 focused presentations for works inspired before 2000. Among the participants, six new comers retained attention: Sabrina Amrani with textile-based artwork by Chant Avedissian; Tibor de Nagy with a presentation by Larry Rivers; Paci contemporary with computer-generated composite portraits by Nancy Burson; Venus Over Manhattan with creations that combined abstraction and figuration; and Walden with embroidered-fabric works by Feliciano Centurión.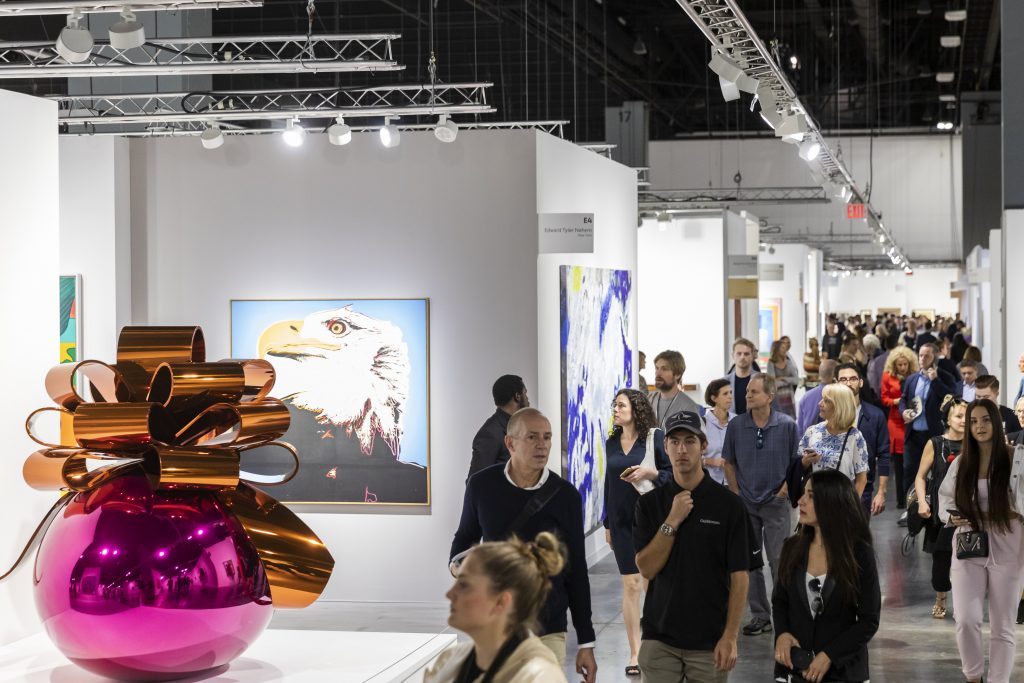 Kabinett presented 31 curated exhibitions in individual areas within their booths. This year's projects belonged to Alexandre Arrechea, Washington Barcala, Romare Bearden, Roger Brown, Ellen Cantor, Paul Lee, Zanele Muholi, Paola Pivi, and Mildred Thompson among others.
Conversations offered a platform for lively conversations, talks, debates and roundtables about global contemporary art. The guests included curators, collectors, artists, critics and cultural representatives of the international art world who exposed their own conceptions on collecting, creating and exhibiting art.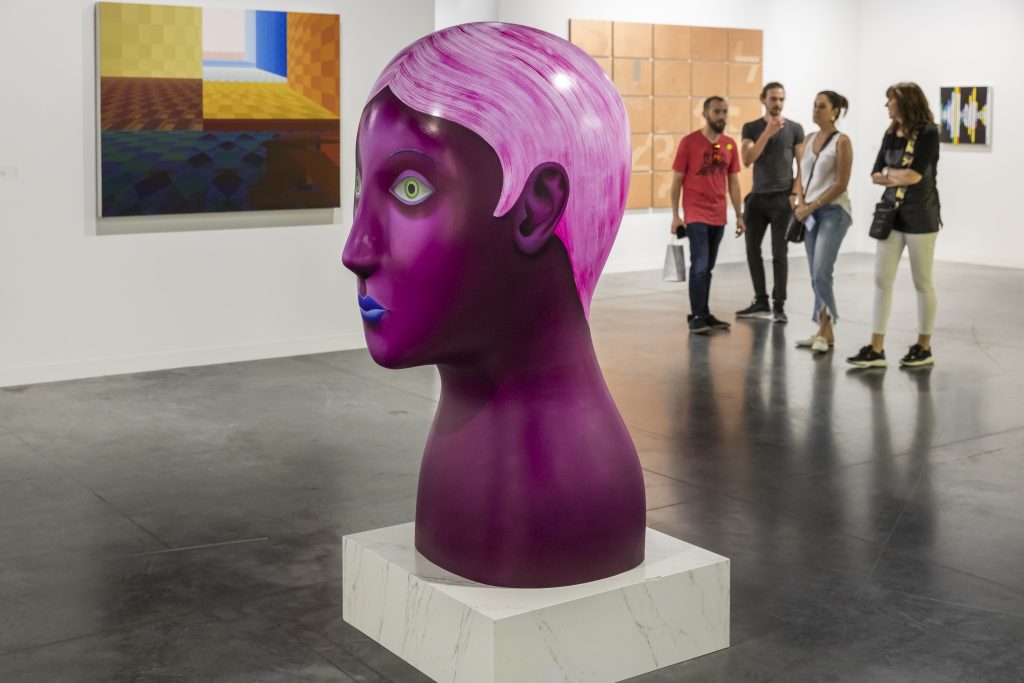 Satellite Fairs of Miami Beach brought more colour and vitality to the area adjacent to the Miami Beach Convention Center. Design Miami was a prominent venue dedicated to decorative design. Pulse Miami Beach provided a vibrant platform to connect its emerging and established galleries with the global audience. Untitled revealed the unity between all the branches of contemporary art. Scope featured 140 International Gallerists from 25 countries, while Aqua Art Miami favoured fresh talents and Superfine propelled innovative artists who tackled art from fresh perspectives. Fridge Art Fair explored exclusive themes, whereas Ink Miami Art Fair concentrated on modern and contemporary art work of renowned artists.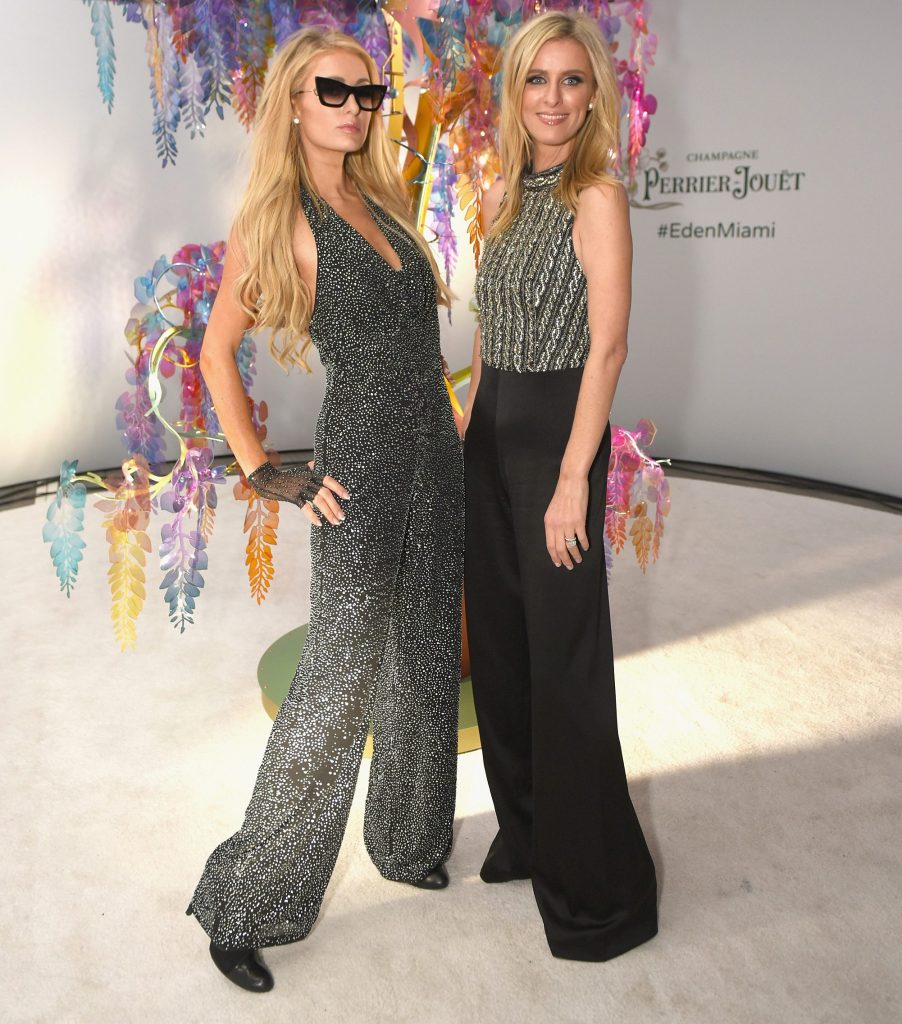 Amazing Booths at Art Basel in Miami Beach 2018
Nina Chanel Abney featuring in the Edition section published her first print edition in cooperation with Pace Prints. "Two Years and Counting" (2018) looked like a large-scale, 11-color relief print in which Abney "employed her improvisational graphic language and unique stenciling techniques" according to Pace Prints' statement. Her full-size mono prints exploited a variety of topics, from urbanization and housing discrimination, to identity and gender, and America's ethnically blamed politics of division.
Eric Firestone Gallery within the Survey section exhibited Joe Overstreet's abstract works from the 1960s and 70s. Changing two-dimensional paintings into three-dimensional installations, the artist wanted to express both the African-American challenges and the palpable evolution accomplished over generations through legislation and cultural progress as well as his optimism in a later change.
Josh Lilley's solo presentation of Derek Fordjour within the Nova section was also impressive as the artist created a carnivalesque pavilion for art market exploration. Fordjour's work "BACKROOM" embedded a painting, a sculpture, and a performance. He used bizarre materials to complete the setting with a gravel floor, paintings suspended on wavy wire, and a kinetic sculpture with light bulbs. Seated on an upturned white bucket, a six-year old boy who was "generally just hanging around for his paycheck," looked bored waiting for his parents to stop admiring art.
Andy Warhol's "Death and Disaster" series, the reflection of aggression and grief dominating the suburban America, was emblematic within the Pop canon, and the most powerful example was Five Deaths on Turquoise. Two survivors were trying to escape carnage during a nocturnal car accident, while the vivid synthetic "phthalo green" wrapped the scene in more ambiguity.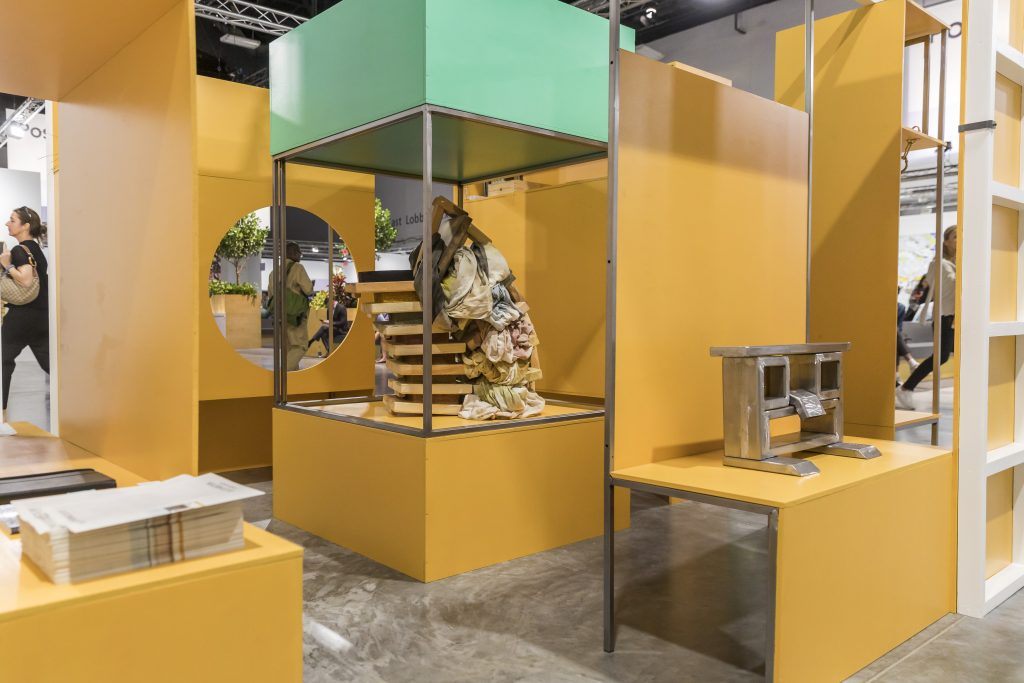 Resplendent and spectacular with each cultural event hosted here, Art Basel Miami flourished again this December as an amalgam of art, chroma and romanticism both for artists and art lovers from all over the world. Its throbs, splendor and originality turned the fair into a perpetual and evolutionary intercultural experience.