Spring burst exuberantly humming its May sonata in an effusion of verdure and 

colour

. 
Torrents of green crude wrapped the dormant New York in a translucent 
robe right in time for the long-expected 
Frieze art fair to revive
 the artistic spirit and 
entice the avid visitors in a dazzling journey through the fair's distinctive sections
. The 7th edition of 
Frieze New York 2018 chaired by 
Loring Randolph
, kept
striving for perfection and quality through its extensive array of initiatives, talks and artworks exhibited by emerging or established artists.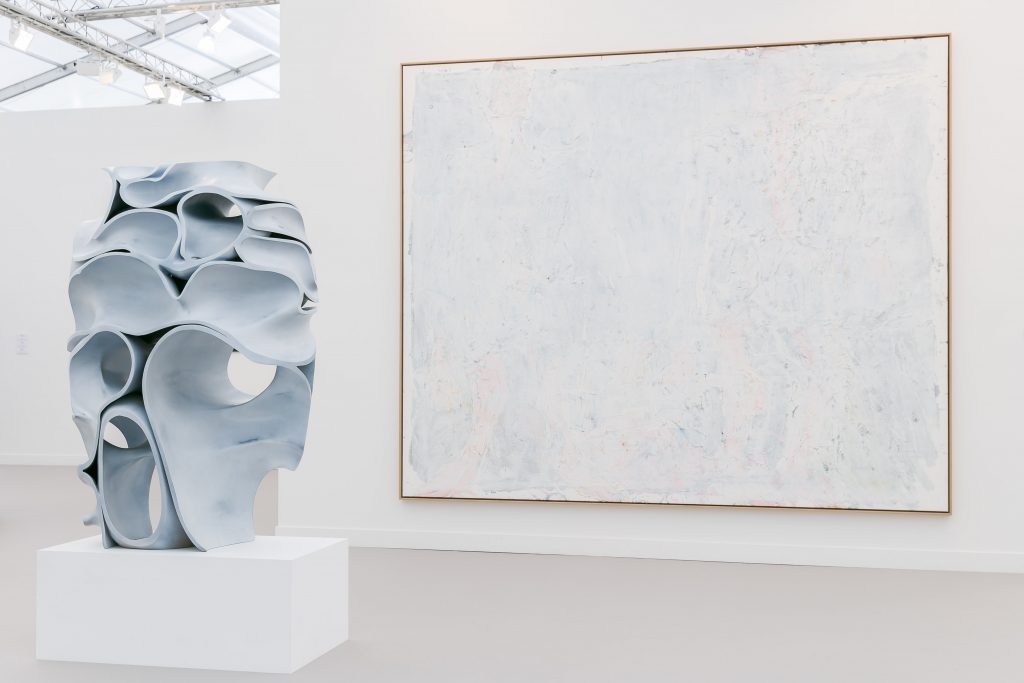 From 3rd to 6th May 2018, Randall's Island Park became the 250,000 square-foot artistic arena for more than 190 topmost international art galleries from 30 countries, dominated by American artists, young talents from Latin America and Asia, and art dealers. In addition to its innovative programs, easily navigable layout, and fresh restyling performed by London's Universal Design Studio, relocated entranceways optimized visitors' periplus through the fair. Frieze's Director, Victoria Siddall considered the combination between strong international galleries and dynamic young ones an exhilarating experience to build "the fair's reputation as a vital international and commercial hub." On the other hand, Loring Randolph, director of New York's Casey Kaplan Gallery, and art dealer with Sotheby's brought value to Frieze's artistic direction underlining the fair's artistic spirit reflected in a continuously redesigned environment.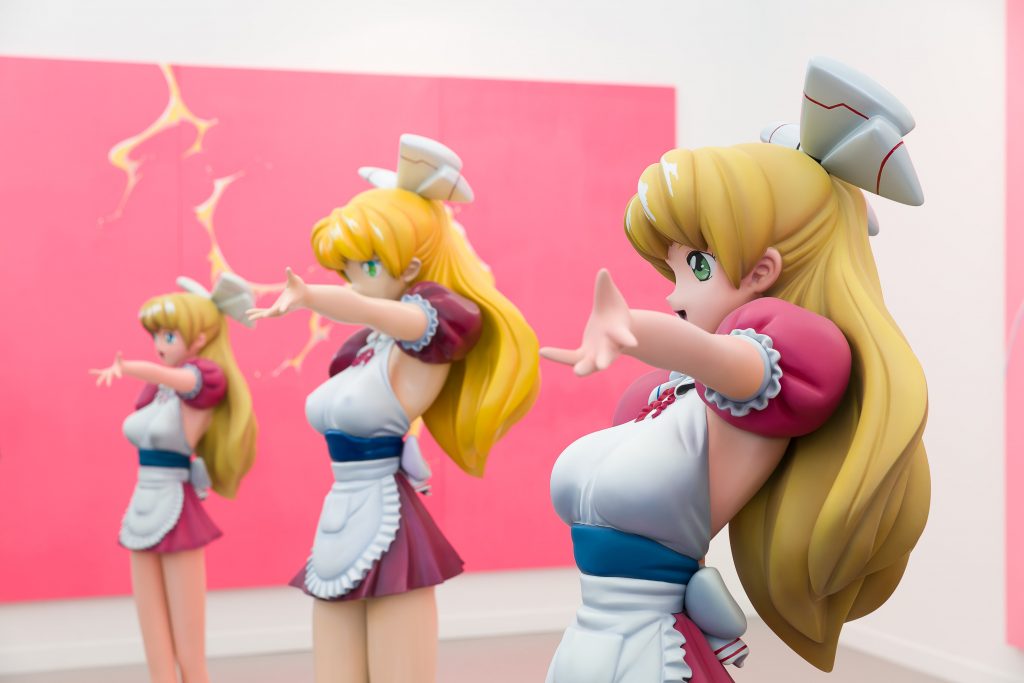 The variety of established galleries (Tanya Bonakdar Gallery, Gavin Brown's Enterprise, Gagosian, Marian Goodman Gallery, Hauser & Wirth, Matthew Marks Gallery, Skarstedt, and David Zwirner), young newyorkese exhibitors (Bridget Donahue, David Lewis and Simone), newcomers Luis Adelantado, Galeria Nora Fisch, Château Shatto), or first-time participants (Vintage Galéria, Dastan's Basement, Kaikai Kiki Gallery) unveiled a unique amalgam of hues and visions. Lovers of graphic images in Animé, Manga, and Japanese advertising felt Murakami's artistic force of nature at Gagosian Gallery, an oasis of millennial pink. By implementing his Superflat concept, the artist visualized no border between pop and high art though Murakami's own art gallery, Kaikai Kiki related to different forms of high and low art. The artist's euphoric figures were big-eyed and long-legged animé girls exquisitely modeled.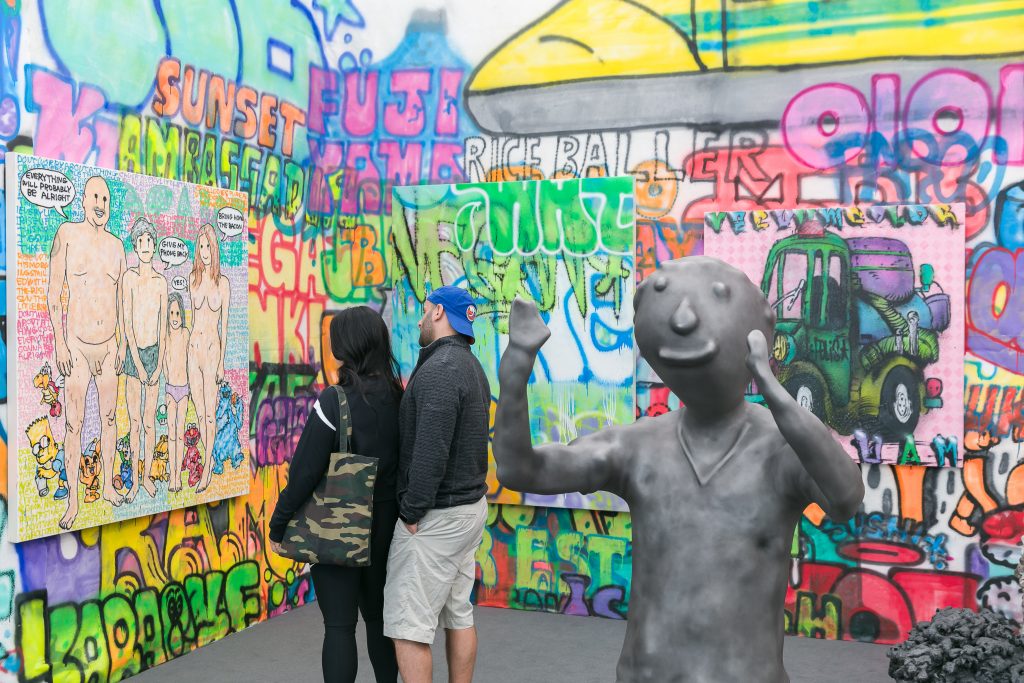 It was novelty, momentum and commitment that defined the grandeur of Frieze New York. Live, an interactive platform curated by Adrienne Edwards, mainly covered historical and contemporary works of black artists whereas Allied Editions and the special-themed section, "For Your Infotainment/ Hudson and Feature Inc" proved spectacular. The latter curated by Matthew Higgs director of White Columns emphasized Hudson's nonconformist spirit and contribution by means of seven booths and a non-selling exhibition. Other yearly events like Gagosian's show honoring Damien Hirst, Luxembourg & Dayan Gallery hosting Constantin Brancusi exhibition equally captivated Frieze's enthusiastic visitors. Other recurring sections were "Frame" (19 galleries aged eight or less with solo presentations), "Focus" (comprising galleries less than 12 years old), "Spotlight (20thcentury art pioneers), "Talks", and "Education".
Live Section
This program entitled "ASSEMBLY," was implemented in New York in 2018 and dedicated to performances, installations, and projects.  Renée Green (Galerie Nagel Draxler) Alfredo Jaar (Galerie Lelong & Co./Goodman Gallery) Dave McKenzie (Susanne Vielmetter Los Angeles Projects), Hank Willis Thomas (Jack Shainman Gallery) ranged among the most prominent participants. The artist Adam Pendleton (Pace) came to the fore with his daunting Black Dada Flag installed on the bank of NYC Parks' Randall's Island from May to November.
New Themed Section for 2018: For Your Infotainment/Hudson and Feature Inc.
This section highlighted solo and two-artist presentations by Dike Blair (Karma, New York); Tom of Finland (David Kordansky Gallery, Los Angeles); Jason Fox and Daniel Hesidence (Canada, New York); Tom Friedman (Stephen Friedman Gallery, London); Andrew Masullo (Nicelle Beauchene Gallery, New York); Raymond Pettibon (David Zwirner, New York); Takashi Murakami (Gagosian, New York); and Tony Tasset (Kavi Gupta, Chicago).
Allied Editions
2018 signaled the first participation in Frieze New York of Allied Editions, a collective of non-profit institutions. This year's edition enriched by Artists Space, CCS Bard, Sculpture Center and Swiss Institute in cooperation with Camden Art Centre, ICA, Whitechapel Gallery and Studio Voltaire facilitated affordable acquisition of works created by prestigious artists. Martin Boyce, Liz Deschenes, Camille Henrot, Dan Graham, Karl Holmqvist, Joan Jonas, Jim Lambie, Elizabeth Peyton, Martine Syms, Paloma Varga Weisz, Juliana Huxtable, Donald Moffett, and Heji Shin launched solely at Frieze.
Frame: Solo Presentations by Emerging Galleries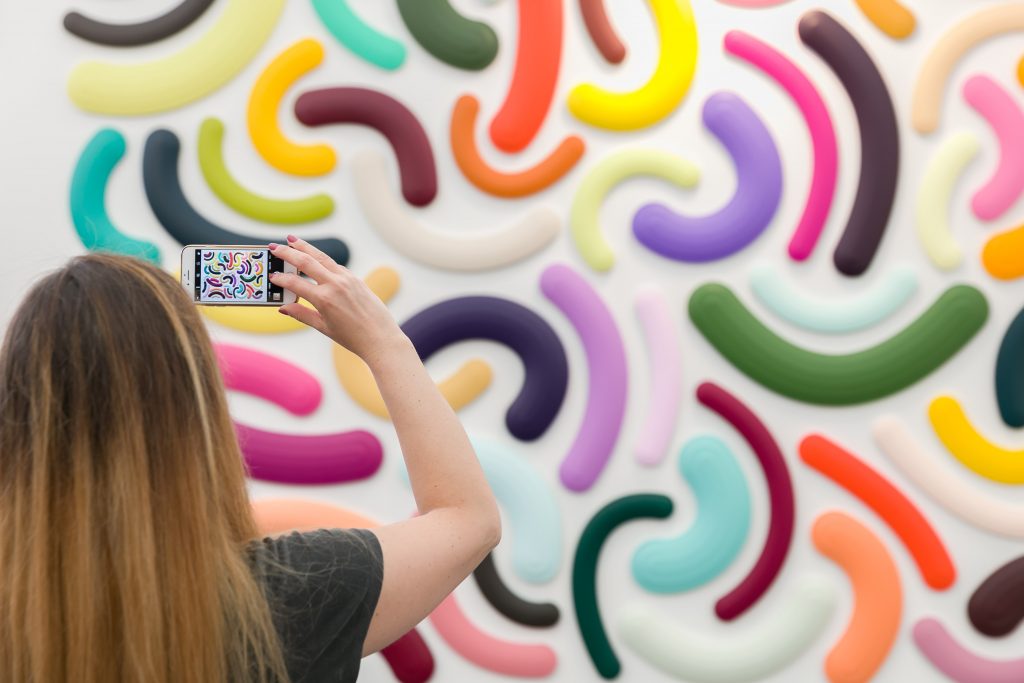 This section comprised 19 booths showcasing emerging galleries from Los Angeles, Shanghai and Berlin with audacious solo shows by Van Hanos's "Late American Paintings", Tau Lewis with a new sculptural installation, Jacqueline Kiyomi Gordon with a sonic installation, Timothée Calame with sculptures and wall works, Gracie DeVito with landscape paintings. Jordan Nassar's installation made of hand-embroidered textiles was a remarkable example. It was a conversation between the artist's personal embroidery and identity as a Polish-Palestinian American and that of the Palestinian women that Nassar encountered while residing in Israel.
Solo presentations by contemporary and modern artists included: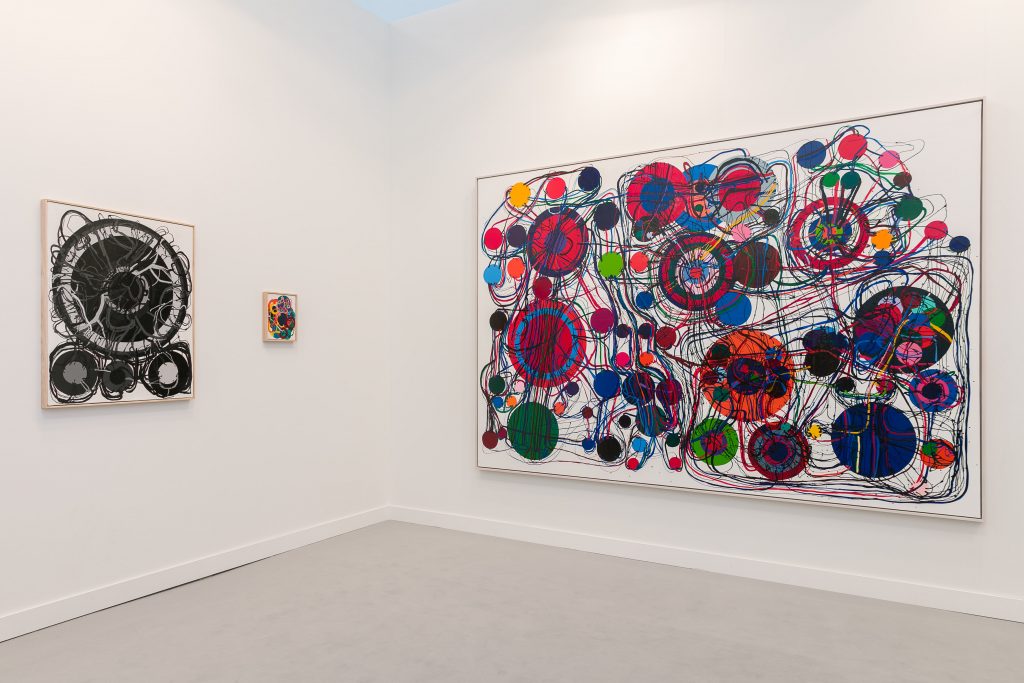 Barbara Bloom (David Lewis, New York, Focus); David Hockney (two solos: with Pace, New York, main; and separately with Offer Waterman, London, main); Betye Saar (Roberts Projects, Los Angeles, Spotlight) following her solo show at Fondazione Prada (Milan) and ahead of "Soul of a Nation" at Brooklyn Museum (New York); Joseph Kosuth (Almine Rech Gallery, New York); Kemang Wa Lehulere (Stevenson, Cape Town, main); Zoe Leonard (Galleria Raffaella Cortese, Milan, main); François Morellet (The Mayor Gallery, London, main); Torbjørn Rødland (David Kordansky, Los Angeles, main); Cerith Wyn Evans (Marian Goodman Gallery, main) and a two-artist presentation by Jordan Wolfson and Josh Smith (David Zwirner, New York) retained the audience's attention.
Group presentations revealing major 20th-century included:
Castelli Gallery (New York, main) with notable works by American artists Richard Artschwager, Roy Lichtenstein and Keith Sonnier.
Spotlight: Visionary Artists
This section aimed at reevaluating marginalized or historically overlooked artists. It exhibited 35 extraordinary presentations about new perceptions on recent art history belonging to the 20th century visionary artists. The 34 galleries from all over the world included thrilling avant-garde art. Ryan Lee Gallery represented by Emma Amos showcased unusual symbolic paintings of the African American life in the 1960s deconstructing the concepts of race, gender and art history, whereas one of Helen Lundberg's colourless abstractions within Cristin Tierney gallery depicted a version on Superman's logo. Moreover, Partners & Mucciaccia Gallery exhibited not only Carla Accardi's paintings and installations since 1940s reflecting the perfect symbiosis between surface, light and colour, but also emblematic works since 1950s and 1960s. The American feminist artist Bettye Saar expressed the continuity of African traditions in America, while the Japanese artists Kazuyo Kinoshita, Atsuko Tanaka, Keiji Uematsu and Eiji Uematsu rendered new forms of expression in the postwar period. Paul Kos's and William Leavitt's works reflected conceptual art, whereas those of the American painter Allan D'Arcangelo, of the British filmmaker Jeff Keen, and of the Spanish photographer Dario Villalba were based on Pop Art.
Frieze Talks
This section curated by Tom Eccles and part of the fair's non-profit program invited artists, writers, poets, and cultural figures to free talks about today's American landscapes and exploration of the written word.
Frieze Education
Frieze Teens program had been initiating instructive studio visits, writing workshops and professional seminars for five consecutive years facilitating art meetings between New York City high school students, international artists and industry representatives. Among the creators and institutions involved in this program there were Jordan Castille and the Department of Cultural Affairs.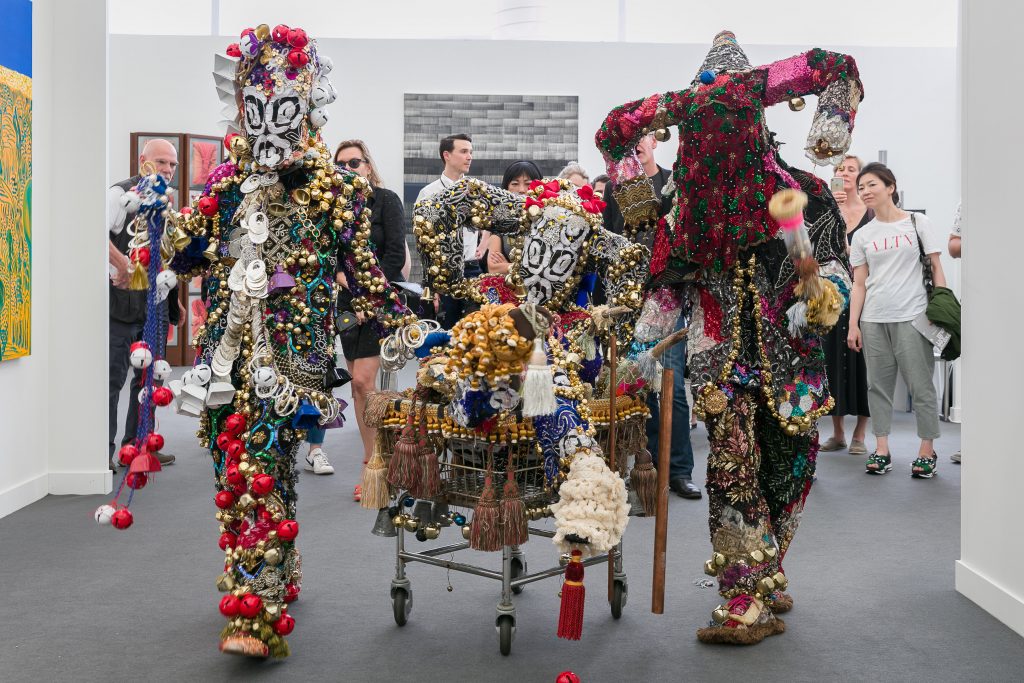 Stand Prizes
This edition awarded two Frieze Stand Prizes for remarkable presentations of galleries in any section of the fair and the Frame Prize to the worthiest presentation in the Frame section, supported by Bullit Frontier Whiskey.
The Reading Room
The Reading Room that returned for the 3rd year reunited the world's leading arts and lifestyle publications, hosting daily sessions. Conversations with artists, writers and cultural figures were planned within Frieze Talks offering visitors a collection of art publications to take delight in.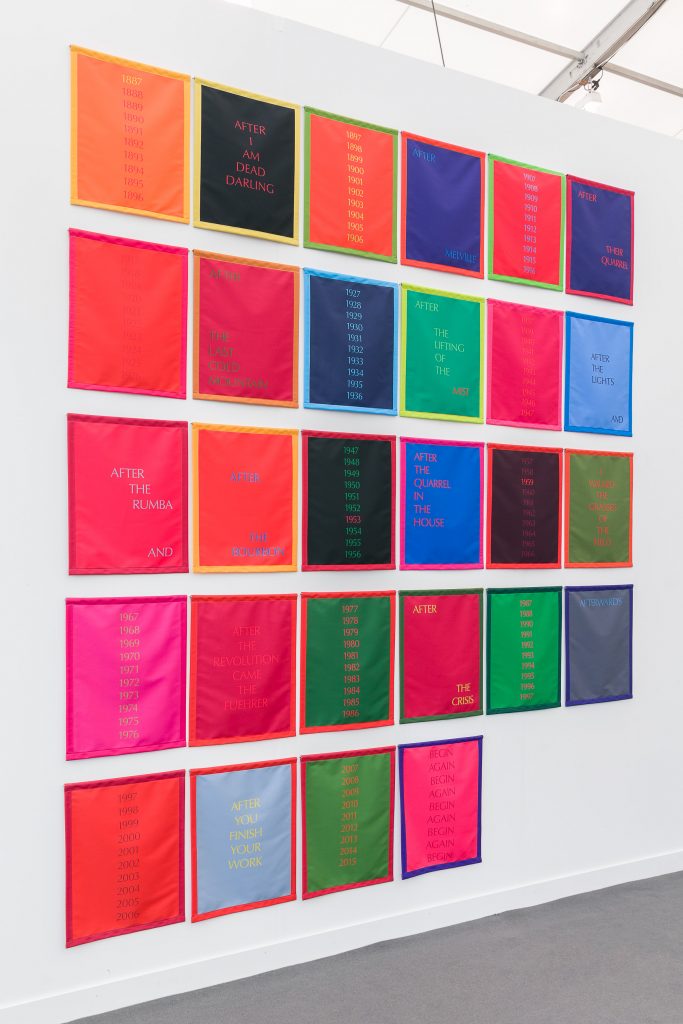 Curator Adrienne Edwards attributed the inaugural Frieze Artist Award sponsored by Luma Foundation to the Parisian artist Kapwani Kiwanga for his steel-framed installation "Shady" in semi-transparent wrapping that explored freedom of movement and architectural exclusion.
Besides its global lead partner Deutsche Bank, Frieze New York partnered with BMW, the Financial Times and Official Champagne Ruinart, and with LUMA Foundation for Frieze Artist Award.
Never before had spring transfigured Frieze New York into a more sophisticated venue emanating an invigorating wave of pure contemporary art. It was the fair's refinement and vitality that aroused travellers' artistic tumult to vibrate esthetically and spiritually with a space gradually morphing into a benchmark of success.