How is the world of luxury evolving? This is a question the FT Business of Luxury Summit tries to answer every year and this year's theme was "The Material World: Craftsmanship, Manufacturing and the New Markets", taking place in Lisbon this past May. The themes covered at the conference are relevant in today's luxury landscape, which is going through many changes that are reshaping the business models of its players. The effect of the internet as a new channel of communication and retail, the emergence of strong new markets and the change in consumer behavior were topics that all companies in the summit had to take into account for their manufacturing and marketing strategies in the immediate and long term future.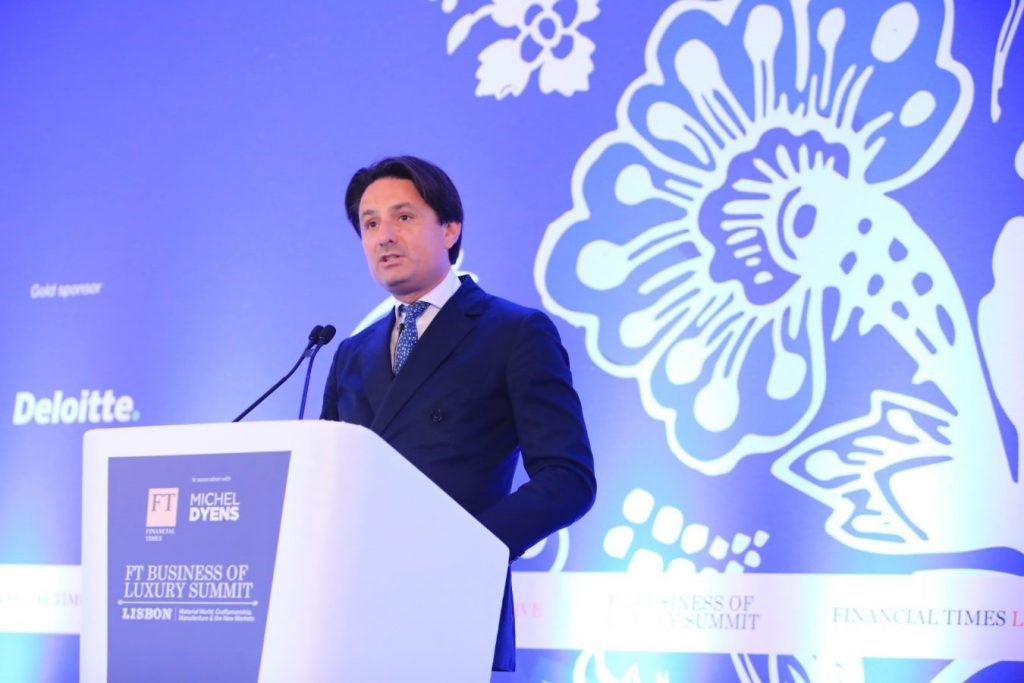 One of the problems the luxury market has to deal with is the use of the word 'luxury' itself. As Jonathan Anderson, creative director of his eponymous JW Anderson label, pointed out – "They sell luxury chips and luxury sausages in Tesco." It has become a word so widely used it has lost its meaning and therefore has become the job of the brand to redefine it. Using storytelling and developing closer, emotional connections to your consumer is essential in communicating why a company's product deserves to be considered a luxury product. This is one of the pillars of the business of luxury. Without a story it is hard to differentiate between high end goods and regular consumer goods.
Brands use different strategies to communicate their story. There are brands that concentrate on anticipating the fashion taste of the consumer or hiring the most creative talent to translate the spirit of the company to the buyer. An example has been the revitalization of Gucci by its Kering Group managing director, Jean Francois Palus, who in the last couple of years has become a trendsetter with the Gucci brand reaping the fruits of his labour. They have seen tremendous growth in sales this year, surpassing even YSL in the first half of the year. As Nicolas Ghesquiere, artistic director of Louis Vuitton women's collection, said – "Every designer is dreaming to create something that will be so fashionable that it will last forever."
To redefine luxury some brands concentrate on the artisanship of their products, which are often bespoke goods. By focusing on the artisanship of their products, brands add value to their merchandise by supporting the richness of their history. Cartier is an example of a brand whose story is rooted in their history and which plays an integral part of their mission. Cyrille Vigneron, CEO of Cartier, concentrates his efforts on explaining to the public that 'Cartier is timeless' and does not need to completely reinvent itself. Some of the world's favorite pieces have been designed decades and even a century ago, like the Tank, which was designed over 100 years ago. He relies on the heritage of Cartier and the nature of the products as jewelry and watches are timeless pieces in themselves. Sonraj, the custodian of the finest Swiss watch brands in Pakistan and who partnered as sponsor at this years summit, is another example of a luxury brand that is ensuring they are meeting the needs of the luxury market. By creating their bespoke and limitless editions they are paving the way to prestige and success.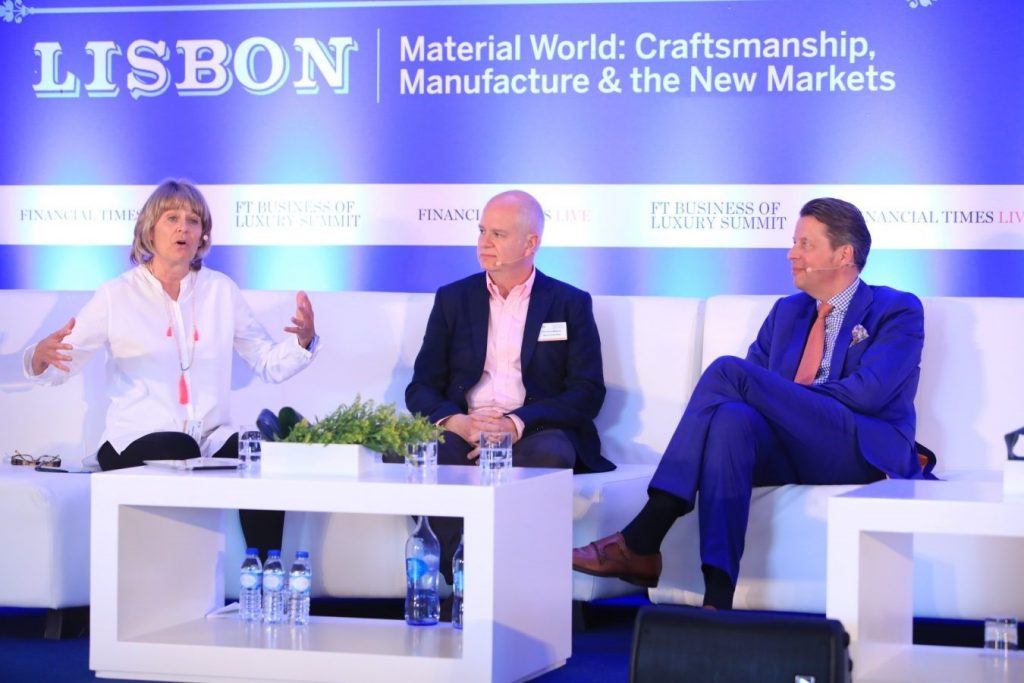 >Axel Dumas, CEO of Hermés, also focuses on craftsmanship, the same way his predecessors did. Hermés, a family company, does not supply the market when it wishes, but supplies it when the artisan is finished making the product. And although its product has a much shorter life than Cartier´s, its business model includes a waiting period of months (and sometimes years) for a client that has ordered a Hermés bag, making the wait part of the experience, increasing appreciation for the product.
The culture and values in Hermés have not changed since its inception, and will stay the same, "craftsmanship combined with the finest materials to create beautiful products." Hermés reinforces the culture by putting the artisan in the center of their story. Their craftsmen are in training for two years before they are allowed to make a bag. Axel Dumas does not forget the digital environment however, and uses it to create "a new narrative that can transform people's opinions." Their social media presence, through Instagram and facebook, is an important focus and they benefit greatly from fashion blogs and opinions on the web, constructing an image to support the story of their brand.
The internet and developments in the digital world have been a strong force and point of pressure in the market causing major changes in behavior and processes. Brands need to communicate digitally in an untraditional manner with a huge number of decentralized channels available. Blogs or influencers from facebook and instagram have taken on greater and greater significance and have become a marketing tool for those who have learnt to use it. Some digitalization of processes have allowed for certain traditional components of the chain to be eliminated. As Federico Marchetti, CEO of YOOX Net a Porter recounts, "when we started in the 90s, nobody really believed we could sell luxury goods online." Today YOOX Net a Porter has been able to eliminate the brick and mortar store and has had a net revenue of €519 million in just the second quarter of this year. Marchetti believes luxury can be sold online and has been able to create a new channel for high end brands. As he explains, the new "shop" is constantly at the customer's hand, it´s the phone they carry, without restrictions or limitations on what to buy, from groceries to even a watch for €130,000 (which they sold in May).
This digital shopping experience is contrasted to the opposite trend where customers are becoming more aware of the shortfalls that come with buying online. When it comes to luxury and high end products, such as watches or jewellery, there is an obvious benefit to shopping at the physical store, from negotiating discounts to vat and of course the personal experience of trying the product on. This is why we will continue to have new physical stores popping up around the world with tailored customer experiences. For Marchetti, he needs to, with technology, handle the "oxymoron of using the highest technology (including artificial intelligence to analyze the customer's data) to give the most personalized service." But YOOX Net a Porter does not eradicate the human touch, because they believe that "human nature is stronger than technology" and in order to create a more personal story it has a team of personal shoppers armed with the artificial intelligence data to give a personal service to its customers.
Whilst YOOX Net A Porter may have turned the luxury goods industry onto digital, companies such as Goop are going against the trend and are in fact turning to print. By extending their digital operation to the physical realm, Goop Wellness brand in collaboration with Conde Nast, are returning to the 'luxury' of print magazine. As glossy magazines turn to digital, there is a desire to return to the traditional, to a print magazine that is seen as something unique and appreciated. Goop magazine will be designed as a collectable edition, acknowledging the power and enjoyment of touch for their customers.
Marcia Kilgore, founder of her new venture Beauty Pie, has created a concept for customers to buy their skincare and makeup at factory cost, cutting the traditional steps in the chain such as the marketing, distribution, extra warehousing and packaging costs. Kilgore believes she makes the market "fairer" for people, especially women, so they can afford good skin care at a more reasonable price. Her shop is online and the benefits of its pricing strategy targets Beauty Pie members, who shop at a fraction of the regular price by paying a monthly or yearly membership fee.
In manufacturing the evolution is ever-changing, with a particular focus on materials that are environmentally friendly and are made from sustainable components. As Miroslava Duma, founder of Fashion Tech Lab, explained – "We have a very real need to come up with ecological goods, especially since the fashion industry is the second largest waste contributor, after the oil industry, in the world." Fashion Tech Lab is a point of union for the Fashion world to get in touch with Tech labs and financiers from around the world. Bentley is also trying to cater to those who want to have a smaller footprint. Design Director Stefan Sielaff spoke about creating the vegan Bentley, which uses laboratory made synthetic leather that feels like the highest quality hide.
Another key element of the luxury world is bespoke products. They include, as part of the enjoyment of their merchandise, a custom-made category. From diamond paint for a McLaren car to bespoke suits and dresses or to a uniquely designed jewelry piece. Custom made from a craftsman has become a key element in many of these products and part of the renewed definition of luxury. Asia was another recurring theme of the conference, as it is slowly becoming an ever-bigger portion of luxury sales. Brands are having to adapt to a whole new market with a different consumer culture that is constantly evolving. Adapting to the Asian taste and the concept they have of a luxury service has been part of the strategy of most major houses.
Because of these forces of change in the luxury market, there is always the possibility to make new alliances amongst players. Financiers, Francesco Trapani – former CEO of Bulgari and now Executive Vice President of Tages Holding; Luigi de Vecchi – Chairman, Corporate and Investment Banking in continental Europe for Citi and Daniel Piette – Chairman of First Founders, agreed that there are many opportunities in the market to merge companies. One of the biggest challenges however is how to give a tangible value to the internet and its effect on revenue. There is consolidation in the market due to the digital impact because it creates an instantaneous global presence but it is costly and fast moving and therefore the brands with the most available resources tend to be the ones benefiting most from these advancements.
The developments and trends in the luxury market create new spaces whilst also destroying old spaces. Companies are able to either grow into these new areas or they find themselves contracting. It has been a very interesting summit with brands discussing the different ways luxury companies have seen their strategies adapt and react to these changes. Whether it is by communicating, delivering a new experience or by simply holding on to their core values that stand the test of time they all have had to work in the new world of luxury.