Ghost to Phantom
Neck and neck. Rolling on a straight, taciturn as a game of whist. The blood-shot insomniac's ruby eye twitches. The man of the Dia de los Muertos neon skulls holds the steering wheel tight in the next car. Rolls Dawn has room for the Caicos titan and his trademark hair, standing on end like a Basquiat crown. Flick of blade-sharp launch control and he's driven with the omnipotence of a Bond Villain.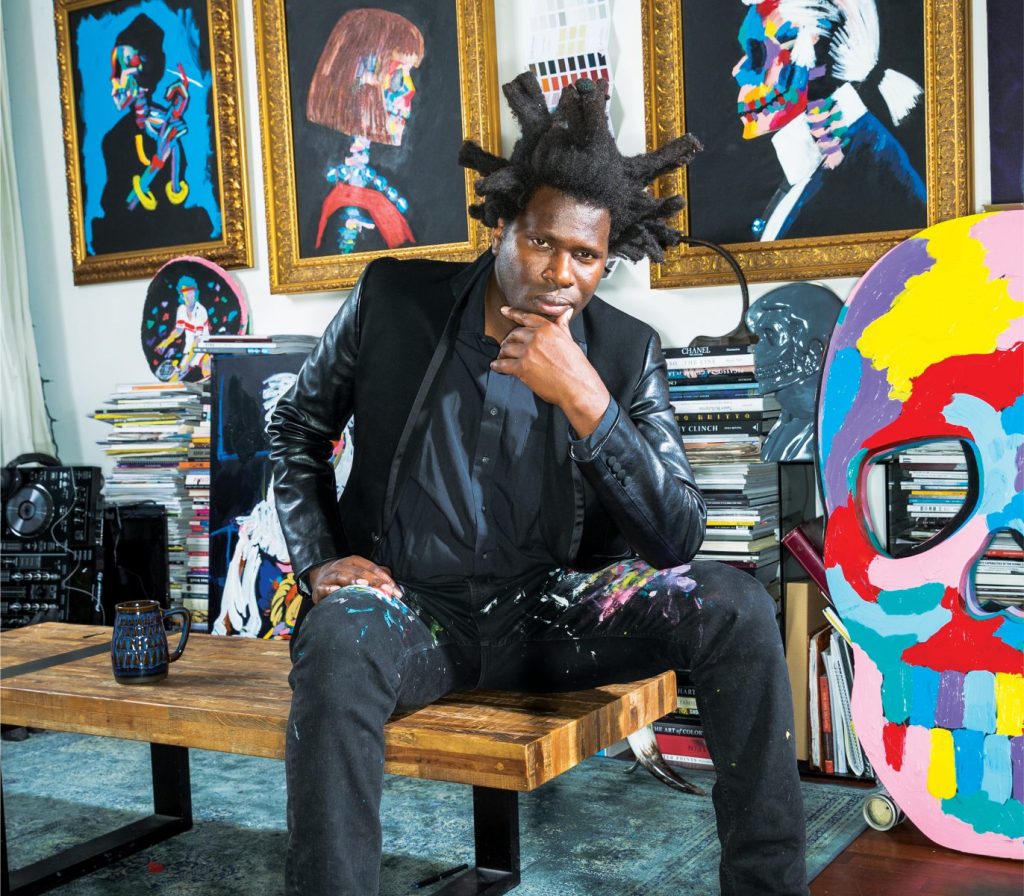 Skateboarding with a buddy uptown from the Five Points, our good boy as wild child Bradley Theodore alacritously spotted a Rolls heading faster in the same direction. Slowed down, the impresario in the back happened to be a known friend of his family, and the kids were offered a lift for ten blocks of heaven to the Met. Smelling the leather, feeling along the stitching, the city quiet behind the windows. Studying every detail of this How the doors suction closed, creating an elegant safety from the world of noise and pettiness outside. Now Bradley describes one of his first ten paintings concupiscently: "The front view grill is like looking deep into a woman's eyes when, you know." We can only imagine!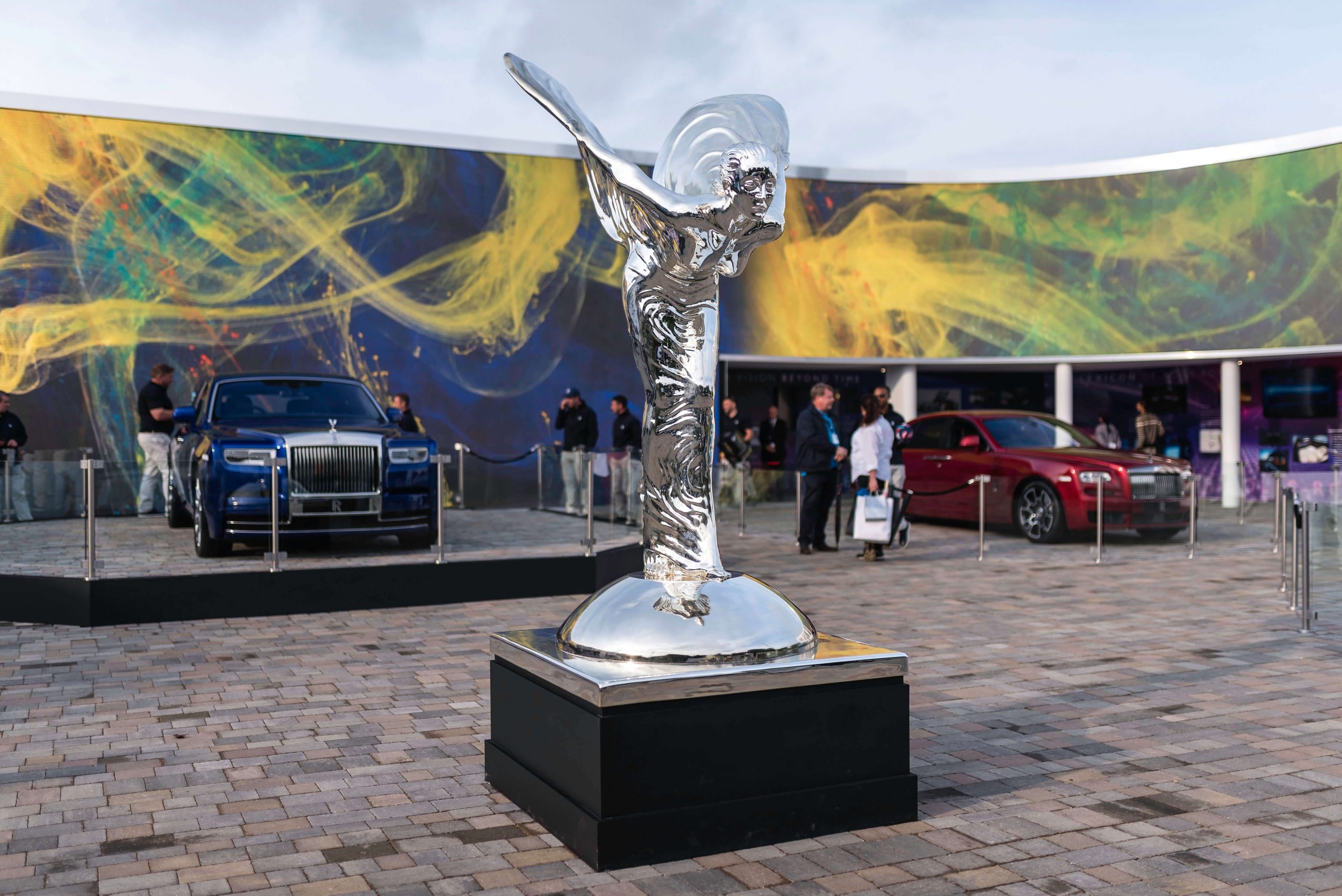 The dreamer becomes the dream
Art lovers and fashion addicts schedule vacations to see Bradley's 2014 Anna Wintour, Karl Lagerfeld face off on the street wall of Kenmare St and Bleecker St in Manhattan. Now they're going to Sardinia to see his neon and pastel Marie Antoinette fleeing on a horse mural in Porto Cervo. Fans write in to Bradley saying they hope to one day own a piece by him. It touches his heart, mine too. How in tune this man is with the world that he was once aspiring to be part of.
Street Luxury
Warhol dilettante and Vogue Editor-at-Large Andre Leon Talley, Whoopi Goldberg, Will I Am and our friend Bradley Theodore are sat in the coffee-menu for heaven cafe Sant Ambroeus on Prince Street Soho New York. Donatella Versace comes to the table, and Andre Leon Talley introduces our friend Bradley to her as the Best New Artist. Big words with big meaning from the style creator. Could not have said it better. Before fame, Bradley was creating music videos and designing platinum album covers. From art school, he wisened up with economics classes. Why? Because, he was so inspired for his Rolls dream by his merchant banker friend, who had an estate in the Hamptons, to, wait for it: become a banker! What? Can you imagine it?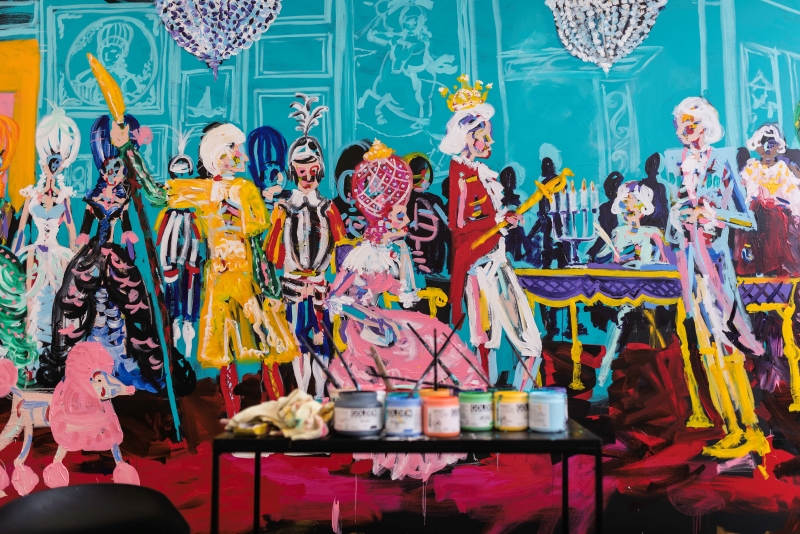 At his second show in London, Bradley was asked by one of his collectors to paint his Dawn in front of the Maddox Gallery. Paint brush in one hand, paint bucket in another, Bradley danced about the five meter machine, focusing in his peripatetic manner with colour and stroke in mind. So, when the director screamed, "What the Hell are you doing to the car!", only a school boy smirk grew wide across his face. "Quiet, I'm busy!" 'Rolls as mural' has been the epitome of capricious ostentation since Steve Weaver painted a particularly notorious Phantom V in the 1960s. So, the public were somewhat prepared for calamity when Bradley and his collector dragged the 'upgraded to masterpiece' Dawn around the streets of London. Regent Street stopped. The city stared, and waved. Bradley's audacity became an internet sensation. The people of London with their smart phones were capturing cultural couture. Finally, people of haute distinction could share their happiness with the general spectating public. The divide was opened with a smile and a click.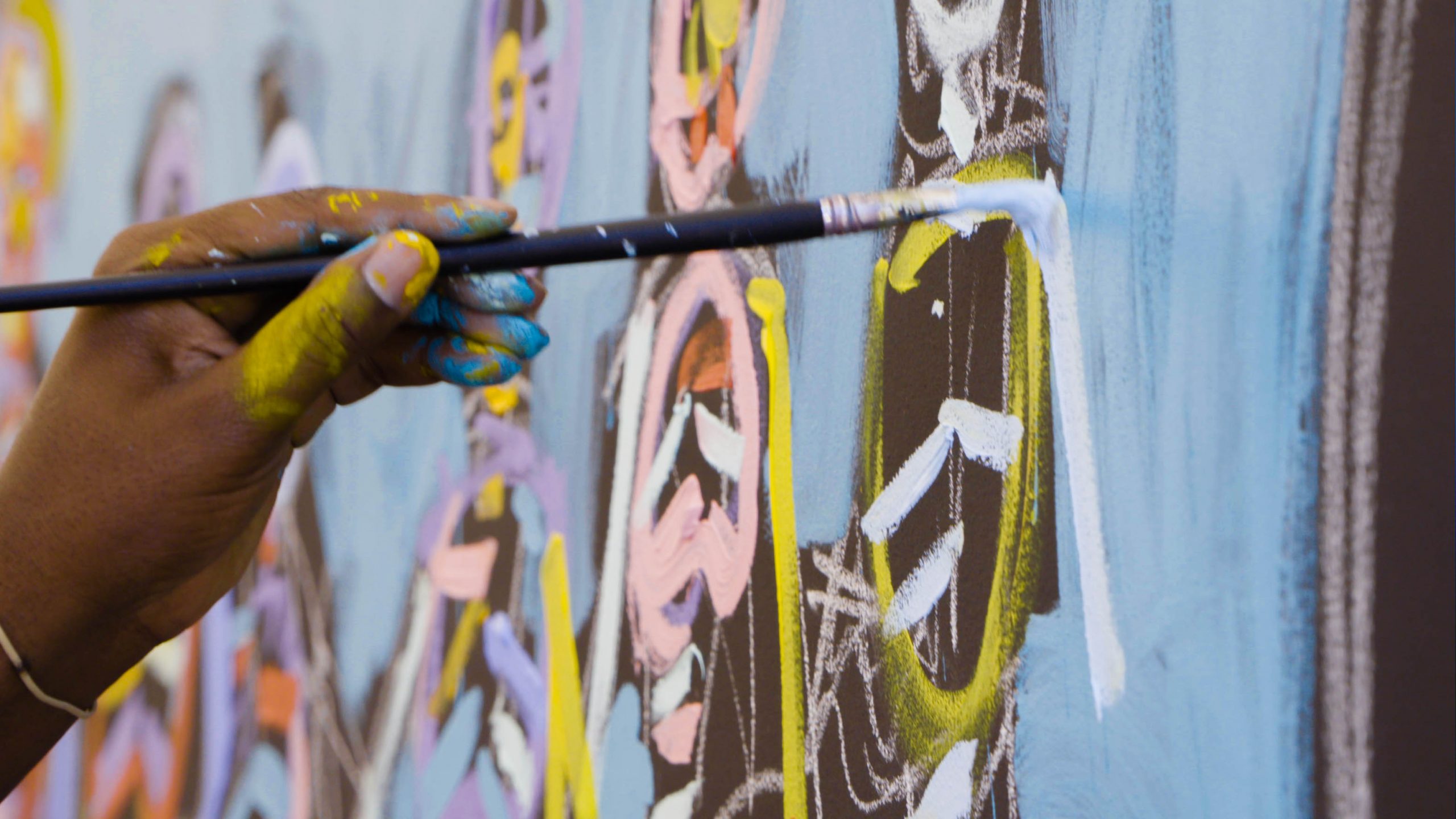 Rolls Royce saw this and invited the collector to park up as a spectacle in the forecourt of the factory in Goodwood for VIP guests to see and awe. In 2017, Rolls contacted Maddox Gallery to borrow Bradley for the entire sun-drenched Goodwood Festival of Speed weekend. This was their first festival entry in a decade, coinciding with the release of bespoke Sweptail. Bradley's canvas pieces were displayed and he painted live in the VIP section for elite clients and friends of Rolls Royce. Pin-stripes and t-shirts alike were painted. Rolls won the prestigious 'best experiential display booth' in 2017, globally beating all competitors for miles.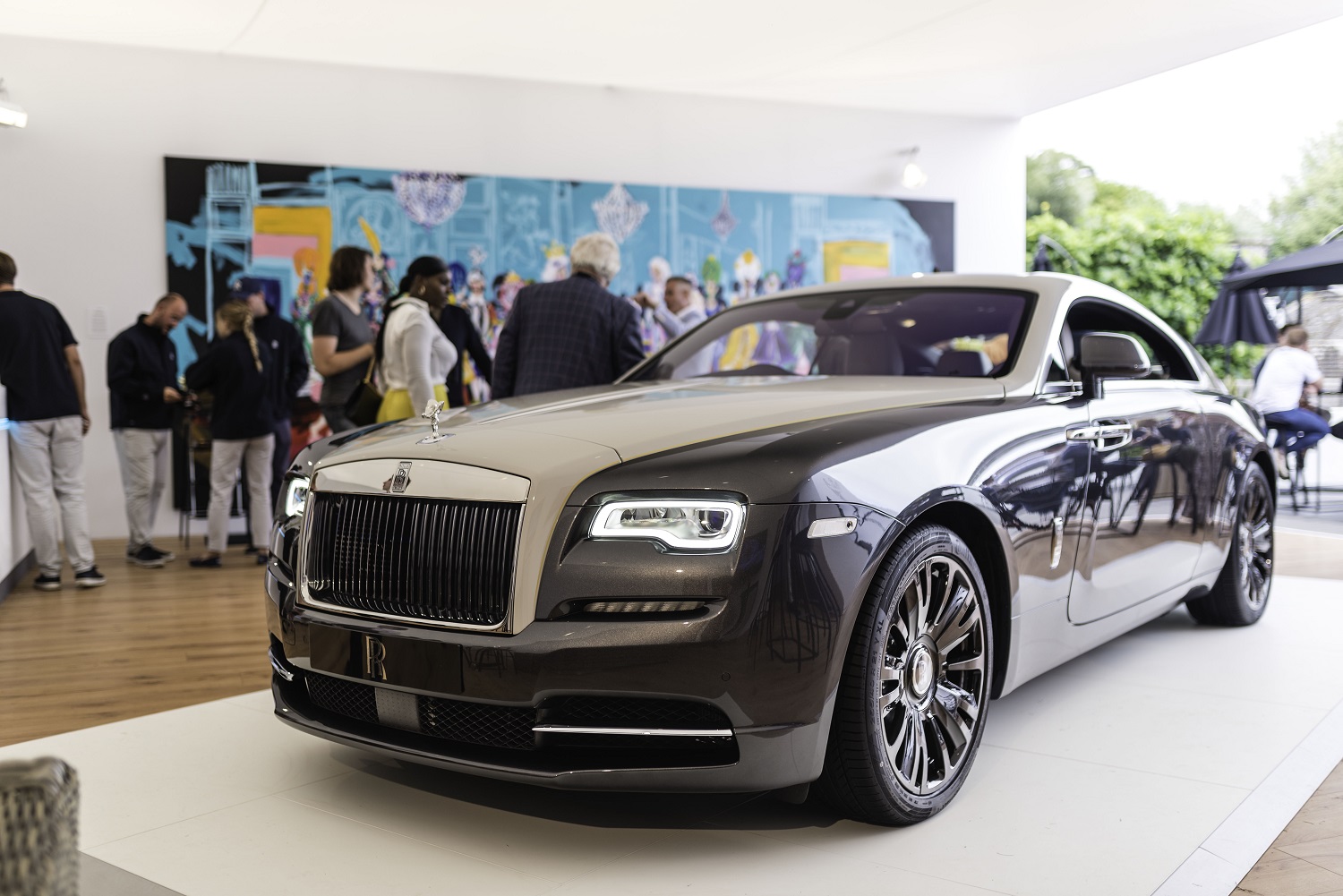 At a time when Rolls Royce's aerospace division was still being investigated by the SFO, Bradley illuminated what mattered really for the people, for the economy and for the clients, achieving for the company astronomical onward sales from Goodwood FOS 2017. People practically forgot overnight the newspaper headlines of intriguing corruption and talk of international bribery at Rolls. The national jewels: why disturb a company while they are still making and designing cars in the UK? Could say Bradley and the collaboration with other artists at the company is a diversion, a manoeuvre used to distract us from the issue at large? However, what the actual issue for great British companies seems to be is the lack of government subsidies that could hinder and halt any need for cavagnole and favours. Reprimanding only has so much effect. Thankfully the SFO has dropped the probe into the luxury giant in early 2019. The weekend of Goodwood FOS 2019, subaltern to court page, our Bradley had been lionized. Sheltered from the sun, if not the heat. We enter the Rolls pavilion after browsing the Cartier enclosure holding the DeTomaso retrospective with the beautiful molten red machine of severe curves and undoubted speed, the P72. We are invited into a secret passage for Champagne and canapes, watching Bradley choose colours and create the 18th Century scene of a carnival ball: glittering chandeliers, paste ceilings and marble balustrades.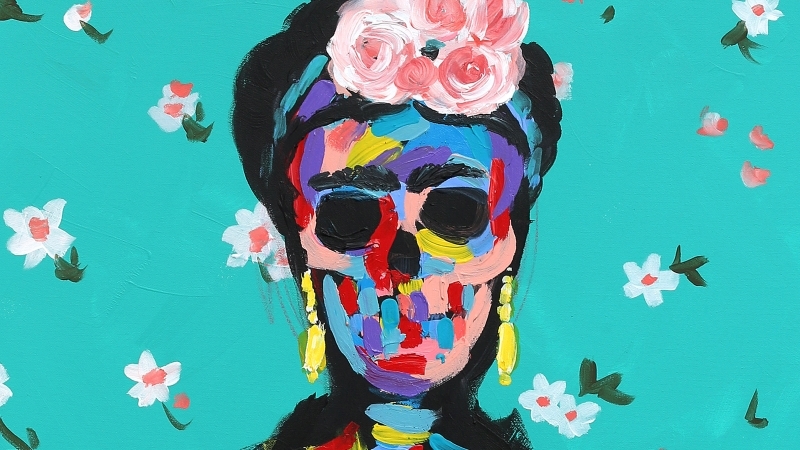 Sipping bubbles and chatting, we are watching Bradley work on this ten metre canvas. The experience is as epic as it is entertaining, and how could we really leave before the piece becomes as marvelous as a live burlesque operetta? First paints the chandeliers and some skeletons, for, how could they be entire living dead without bones? Then the hair, and dressing them prettily in peignoirs and jacquard robes, embroidered gowns. Of course, then parures of diamonds and ropes of pearls. Dainty shoes! Cascades of roses, grisettes and grand almoners alike with lace fichus at the neck. Tall powdered curlicues piled high with jewelled ornaments, taffeta hangings and velvet curtains. Is that Marie Antoinette with Louis XVI, Axel Fersen in the doorway? Could it be a sanguine Madame du Barry on Duc de Brissac's knee, surrounded by their most faithful, death do they all part, one by one? Bradley lunches with fashion royalty and paints what we all love to see. He dances at all hours, he has a wicked sense of humour, showing a video of the yacht-mating game (a smaller yacht blows the horn to attract the larger yacht, you had to be there!). We joke; I say I can really see him driving around his private art hotel in Turks and Caicos in a limited edition, 'upgraded' Stingray. "Can't do that girl, I only do Rolls. Loyalty is Royalty, right?" Ain't he, yes. Albeit, he'd be pretty squashed up in one of the classic Corvettes, they're not much of a tall man's car.